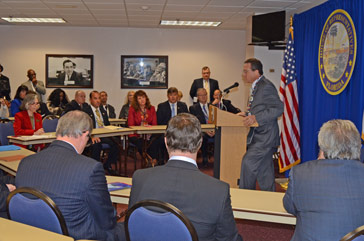 2019 Legislative Update
As with every legislative session, Palm Beach County sees some of it's priorities move forward while others do not. Below is a very brief summary of the progress of Palm Beach County Board of County Commissioners' top four legislative priorities.
Affordable Housing / Homelessness: Legislation supported by Palm Beach County and others that would have helped protect affordable housing trust fund dollars from being diverted to other areas of the budget died in their respective subcommittees of reference despite the overwhelming support by housing stakeholders and some legislators. Hurricane Michael relief factored prominently in dollars available for affordable housing in the 2019 budget with a significant portion of that coming from designated affordable housing funds. This is the 12th consecutive year that the William E. Sadowski Trust Funds has been swept to fill gaps in the budget. This year, over $125 million was diverted from the trust funds.
The following statewide and local amounts were appropriated to Affordable Housing:
Affordable Housing Programs - $200.6 million

State Housing Initiatives Partnership (SHIP) - $46.6 million
Florida Veterans – Housing Grant Funding - $1 million
State Apartment Incentive Loan (SAIL) Programs - $31 million

Hurricane Michael Housing Relief - $115 million, includes:

$65 million for the Hurricane Housing Recovery Program
$50 million for the Rental Recovery Loan Program

Housing and Community Development Projects - $20.7 million
Opioid / Substance Abuse: State Opioid Funding – $83.3 million
SOBER HOMES AND SUBSTANCE ABUSE TREATMENT (HB 369) The Legislature unanimously passed legislation recommended by the Sober Home Task Force. HB 369 continues to tighten up sober home standards and address unintended consequences of previously passed legislation. The bill exempts "Oxford Homes" from certification requirements, strengthens patient brokering and deceptive practices statutes, provides for certification and background checks of peer specialists, expands background check requirements for recovery residence administrative personnel and expands violations eligible for exemption, and covers residences that have day/night treatment centers. The bill was approved by the Governor on June 27, 2019; Chapter No. 2019-159
NEEDLE EXCHANGE (SB 366) The House voted 111-3 and the Senate unanimously voted to pass a bill that would authorize a county commission to establish a sterile syringe and needle exchange program within their county. The bill provides oversight, on site substance abuse counseling and HIV education, security and reporting requirements. The bill prohibits any state, county or municipal funding and only allow for grants and private donations. The bill was approved by the Governor on June 26, 2019; Chapter No. 2019-143
OPIOID LAWSUIT (HB 1253) The Legislature voted unanimously to authorize the Attorney General to have indirect access to the Prescription Drug Monitoring Program for use in pending controlled substances criminal and civil litigation. The AGs office filed a lawsuit in May that alleges opioid manufacturers, distributors, and sellers (including Purdue Pharma, CVS and Walgreens) pushed sales of opioids despite knowledge of the dangers and of increasing demand that clearly showed addiction and abuse. Without the legislation, the Attorney General believes it could take years and millions of dollars to build a case. This bill was approved by the Governor on June 25, 2019; Chapter 2019-127
ALCOHOL & DRUG RELATED OVERDOSES (HB 595) The Senate and House unanimously passed a bill to expand the Good Samaritan Act to give immunity from arrest, charge, prosecution, or penalties for a persons who, in good faith, seek help for themselves or other individuals believed to be in need of medical attention while experiencing an alcohol or drug related overdose. This bill was approved by the Governor on June 7, 2019; Chapter 2019-81
Hurricane Preparedness And Relief: Going into the 2019 session, it was evident that Hurricane Relief issues would be a high priority of the legislature. The legislature focused almost exclusively on actions related to the Hurricane Michael stricken panhandle. The legislature invested $1.85 billion in funding for hurricane recovery efforts. One of the largest portions of the hurricane-related spending for the coming year will be $115 million in affordable housing trust fund money to help in their rebuilding efforts through the housing recovery program and rental recovery loan program. Another $35 million will go to county and municipal roads through the budget and transportation bill. A separate $14.2 million will help school districts cover declining enrollments that stem from families and students displaced by the hurricane. $1.3 million was provided in sales, fuel and property tax relief to support building material purchases, agricultural shipments, debris clean up, and tangible property tax payments.
Transportation and Infrastructure: Palm Beach County received significant funding of well over a quarter billion dollars as part of the State's road, rail, transit and port programs. In addition, the County worked to secure $9 million in SCOP funding to benefit road infrastructure in the Glades region of the county, as well as, in other rural areas of opportunity.